Lilianna loves her granddaddy. Granddaddy really helped me out in Branson. He enjoys holding his beautiful Lilianna.
Lilianna has been making many precious facial expressions lately. I wish I knew what she was thinking!
They actually had a mechanical razorback at Shorty Smalls! Lilianna was great! I was very proud of her. She wasn't scared one bit.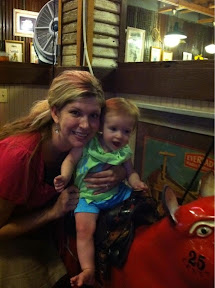 Last but not least, I cut my hair short for the first time in ten years!!!
Posted using BlogPress from my iPhone