I have been very busy at school, so it's nice to know my baby is very happy while I'm at work.
She has three teeth now. Two on the bottom and one on top!
We went to the Clothesline Fair in Prairie Grove last weekend, and Lilianna was great when I put her on this pony.
The Razorbacks had their first victory Saturday, and Lilianna enjoyed watching us cheer for the Hogs! I'm so excited about these iron on transfers I have for each game!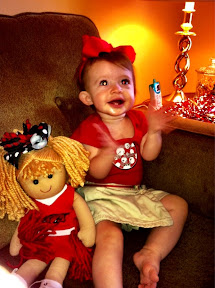 Ok, this is not a flattering picture, nor is there a pillowcase on the pillow (Ha!), but the important thing to note was that Lilianna was actually snuggling with me and fell asleep in my arms! I can't tell you how special that was for me. I love her so much!
We took Lilianna to the Washington County Fair last week too. She got to actually see cows, goats, sheep, and chickens instead of playing with the plastic kind on her Fisher-Price Barn.
Lilianna brings us so much joy. I praise God for her everyday. I'm so blessed! (I love you, Monkey!)
- Posted using BlogPress from my iPhone